San Francisco's BIGGEST & wildest burlesque show!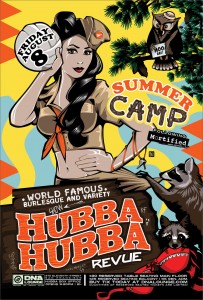 Friday, August 8th at the DNA Lounge, it's Hubba Hubba Revue's SUMMER CAMP!
TICKETS

Rise & shine! San Francisco's world-famous burlesque & variety show
welcomes you to a racy summer romp with the sexy staff & curvy
campers of beloved Camp Hubbawatha! Starring…
aerialists Kendell & Clee
Laundra Tyme & The Speed Queens
acrobat Genie Cartier
Susie Vavoom
Mistress Illumination (Haiku, Hawaii)
Elle Emme
Jay Siren
Valerie Veils
Mesmer
Nettles & Lala
Jet Noir
Pearl E. Gates
Stilletta Maraschino
Lola Martinet
Bunny Pistol
Kara LaFleur
Laika Fox
Gorilla X
& the Hubba Hubba Go-Go Scouts!
hosted by Camp Director Kingfish & Coach Slab
Rockin' the Lodge
DJ Starr
————————
Hubba Hubba Revue SUMMER CAMP
Friday, Aug. 8th (following "Mortified") at…
DNA Lounge
375 Eleventh Street, SF
21 & Up w/valid ID
HUBBA HUBBA REVUE BOX OFFICE OPENS AT 9:30PM
ADVANCE TICKETS *HIGHLY* RECOMMENDED
$15 General Admission
$25 Reserved Seating, Balcony
$30 Reserved Seating, Main Floor/Cocktail Tables
———————–
See more at:
———————-
TICKETS & SEATING INFORMATION:
GENERAL ADMISSION tickets do not include guaranteed seating.
RESERVED SEATING is sold by the chair. Seating is at cocktail tables on the main floor, and against the railing on the balcony. Reserved seating ticket-holders will be given wristbands and seated at the event by Hubba Hubba Revue staff. Individuals and groups may be seated together and share tables. Large parties are encouraged to buy tickets as a single purchase.
———————
HUBBA HUBBA REVUE is brought to you by:
KOFY TV20!
Dark Garden Corsetry!
Casey Castille's Trash & Rock & Roll Fitness!