San Francisco's BIGGEST & wildest burlesque show!
Friday, November 14th at the DNA Lounge, it's Hubba Hubba Revue's CRIME!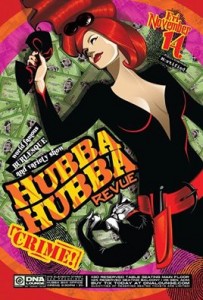 TICKETS
BURLESQUE BURGLARS! Thieves & Tease! — Load up the getaway car & head for DNA Lounge , 'cuz the world-famous Hubba Hubba Revue is gonna pull a HEIST with the raciest rogue's-gallery ever assembled!
COME SEE… !
THE BURLESQUE MAYOR OF NEW YORK CITY…
Jonny Porkpie (Brooklyn, NY)
Donatella MeLies (Los Angeles)
The Ruby Besler Show (Los Angeles)
Fever Blister (Los Angeles)
Angie Cakes (Los Angeles)
aerialist Shredder Hoops
pole-acrobat Elle Emme
Mojo DeVille
Meka La Creme
Stilletta Maraschino
Honey LeBang
Pearl E. Gates
Kellita
Odessa Lil
The Indra
Mee Zee
Bunny Pistol
Fishnet Follies Classic Burlesque Revue
& The Best Weekend Ever
Miss Honey Penny
Mynx DMeanor
Gorilla X
& The Hubba Hubba Go-Go Gang
hosted by Jimmy Kingfish & Kevin "The Beard" Hancock
Rockin' the Hubba Hubba Hideout,
DJ The Klown (from TRAPEZE )
————————
Hubba Hubba Revue 's CRIME!
Friday, Nov. 14th (following "Mortified") at…
DNA Lounge
375 Eleventh Street, SF
21 & Up w/valid ID
ADVANCE TICKETS *HIGHLY* RECOMMENDED
$15 General Admission
$25 Reserved Seating, Balcony
$30 Reserved Seating, Main Floor/Cocktail Tables
———————–
See more at:
———————-
TICKETS & SEATING INFORMATION:
GENERAL ADMISSION tickets do not include guaranteed seating.
RESERVED SEATING is sold by the chair. Seating is at cocktail tables on the main floor, and against the railing on the balcony. Reserved seating ticket-holders will be given wristbands and seated at the event by Hubba Hubba Revue staff. Individuals and groups may be seated together and share tables. Large parties are encouraged to buy tickets as a single purchase.
———————
HUBBA HUBBA REVUE is brought to you by:
Circus Center SF
KOFY TV20!
Dark Garden Corsetry!
Casey Castille's Trash & Rock & Roll Fitness!