San Francisco's BIGGEST & wildest burlesque show!
Friday, August 14h at the DNA Lounge, it's Hubba Hubba Revue's POST-APOCALYPSE!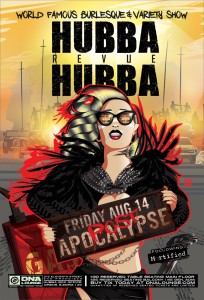 Civilization may be over, but BURLESQUE lives on! Fire up your V8 Interceptor and join San Francisco's world-famous Hubba Hubba Revue for a shiny, chrome, fun-filled romp across the radioactive wasteland!
starring
Major Suttle-Tease (London, UK)
JonBenet Butterbuns
Princess Peaches
Lady Satan
Sgt. Die Wies
Miss Honey Penny
Ariyana LaFey
Bramani Quinn
Grace Bones
Rizzo Rogue
Sugar Cane Jane
Frankie Fictitious
Jet Noir
Kara LaFleur
Laika Fox
Stilletta Maraschino
Fishnet Follies
Speakeasily
Gorilla X
& the Hubba Hubba Go-Go War-Girls!
hosted by Jay Siren & Kingfish
Plus! Get down in the fall-out with DJ Smudge
***
Hubba Hubba Revue's "POST-APOCALYPSE!"
Friday, August 14th (following "Mortified") at…
DNA Lounge
375 Eleventh Street, SF
21 & Up w/valid ID
HUBBA HUBBA REVUE BOX OFFICE OPENS AT 9:30PM
ADVANCE TICKETS *HIGHLY* RECOMMENDED
$15 General Admission
$25 Reserved Seating, Balcony
$30 Reserved Seating, Main Floor/Cocktail Tables
———————–
See more at:
———————-
TICKETS & SEATING INFORMATION:
GENERAL ADMISSION tickets do not include guaranteed seating.
RESERVED SEATING is sold by the chair. Seating is at cocktail tables on the main floor, and against the railing on the balcony. Reserved seating ticket-holders will be given wristbands and seated at the event by Hubba Hubba Revue staff. Individuals and groups may be seated together and share tables. Large parties are encouraged to buy tickets as a single purchase.
———————
HUBBA HUBBA REVUE is brought to you by:
Circus Center SF
Dark Garden Corsetry!
Casey Castille's Trash & Rock & Roll Fitness!