San Francisco's BIGGEST & wildest burlesque show!
Friday, April 10th at the DNA Lounge, it's Hubba Hubba Revue's HISTORY OF THE WORLD (PART ONE)!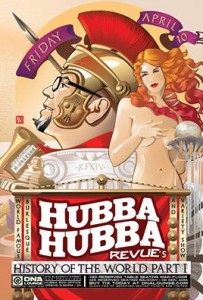 From the dawn of humanity to Ancient Egypt, to the glory that was Rome; everybody loves a burlesque show! Join San Francisco's world-famous Hubba Hubba Revue for an epic night of tassels & tease thousands of years in the making!
starring
International burlesque superstar, Kitten DeVille
Shotglass Sally (Chicago, IL)
Gigi DeLuxe (Chicago, IL)
Miss Honey Penny
Szandora laVey
Mynx d'Meanor
Honey Lawless & Gigi D'Flower
The Pearls of the Pacific
aerialist Diva Marisa
Lady Satan
The Fishnet Follies
Bunny Pistol
Rizzo Rogue
Sgt. Die Wies
Gorilla X
The Hubba Hubba Go-Go Temple-Maidens!
& troupe performances by Penny Starr, Jr.'s Victory Variety Hour (Los Angeles)
Hosted by Julius Hancock, Marcus Kingfish & Alexa Von Spearinface
Shakin' the Sphinx with tantalizing beats,
DJ Smudge
Hubba Hubba Revue's
HISTORY OF THE WORLD (Part One)!
Friday, April 10th (following "Mortified") at…
DNA Lounge
375 Eleventh Street, SF
21 & Up w/valid ID
HUBBA HUBBA REVUE BOX OFFICE OPENS AT 9:30PM
ADVANCE TICKETS *HIGHLY* RECOMMENDED
$15 General Admission
$25 Reserved Seating, Balcony
$30 Reserved Seating, Main Floor/Cocktail Tables
———————–
See more at:
———————-
TICKETS & SEATING INFORMATION:
GENERAL ADMISSION tickets do not include guaranteed seating.
RESERVED SEATING is sold by the chair. Seating is at cocktail tables on the main floor, and against the railing on the balcony. Reserved seating ticket-holders will be given wristbands and seated at the event by Hubba Hubba Revue staff. Individuals and groups may be seated together and share tables. Large parties are encouraged to buy tickets as a single purchase.
———————
HUBBA HUBBA REVUE is brought to you by:
Circus Center SF
Dark Garden Corsetry!
Casey Castille's Trash & Rock & Roll Fitness!