San Francisco's BIGGEST & wildest burlesque show!
Friday, January 9th at the DNA Lounge, it's Hubba Hubba Revue's WARRIOR WOMEN!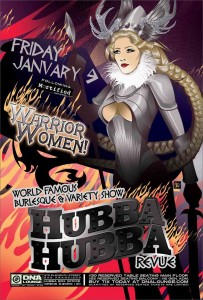 TICKETS
Valiant valkyries, sword-slinging sirens & a bevy of bewitching barbarian beauties! Shine up your battleaxe and join San Francisco's world-famous Hubba Hubba Revue for a sexy romp through The Dark Ages with the fiercest female fighters in burlesque! Come see… !
Vienna LaRouge
The Sizzling Sirens
Jonny Porkpie (Brooklyn, NY)
aerialist Cola Claret
aerialist Lyra Levin
Amberetta
contortionist Kara Nova
Laika Fox
Honey Lawless & Gigi d'Flower
Ariyana LaFey
Kitty Von Quim
Vala Marv'elle
D. Faust
Bunny Pistol
Andi Stardust
Casey Castille
Mynx d'Meanor
The Mermaid Atlantis
Gorilla X
& the Hubba Hubba Go-Go Shield-Maidens!
hosted by Lothar Kingfish, Kevin Handaxe & Jay Siren!
with guest DJ, Myster C! (Ya Mamma's Basement)
* * *
Hubba Hubba Revue's WARRIOR WOMEN!
Friday, Jan. 9th (following "Mortified") at…
DNA Lounge
375 Eleventh Street, SF
21 & Up w/valid ID
HUBBA HUBBA REVUE BOX OFFICE OPENS AT 9:30PM
ADVANCE TICKETS *HIGHLY* RECOMMENDED
$15 General Admission
$25 Reserved Seating, Balcony
$30 Reserved Seating, Main Floor/Cocktail Tables
———————–
See more at:
———————-
TICKETS & SEATING INFORMATION:
GENERAL ADMISSION tickets do not include guaranteed seating.
RESERVED SEATING is sold by the chair. Seating is at cocktail tables on the main floor, and against the railing on the balcony. Reserved seating ticket-holders will be given wristbands and seated at the event by Hubba Hubba Revue staff. Individuals and groups may be seated together and share tables. Large parties are encouraged to buy tickets as a single purchase.
———————
HUBBA HUBBA REVUE is brought to you by:
Circus Center SF
Dark Garden Corsetry!
Casey Castille's Trash & Rock & Roll Fitness!