San Francisco's BIGGEST & wildest burlesque show!
Friday, October 9th at the DNA Lounge, it's Hubba Hubba Revue's ASYLUM!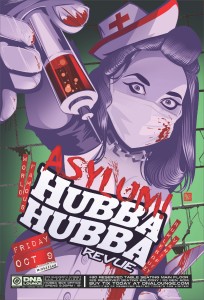 NAUGHTY NURSES, devilish doctors, & so much FUN it's CRAZY! Join Hubba Hubba Revue, & an INSANELY talented line-up of international ♥ BURLESQUE ♥ stars, for a night of TERROR, TASSELS & TEASE that'll have you laughing & laughing & laughing & laughing & laughing & laughing & laughing & laughing & laughing &…
Featuring performances by:
Rita Lynch (Rome, IT)!
Roxy Stardust (Glasgow, UK)!
Lou-Leigh Blue (Bristol, UK)!
Sally Marvel (Chicago, IL)!
Kiki Maroon (Houston, TX)!
Blanche Bourgeois (Los Angeles, CA)!
Angie Cakes (Los Angeles, CA)!
Miss May (Los Angeles, CA)!
Tana the Tattooed Lady (Portland, OR)!
The Sizzling Sirens!
Bunny Pistol!
Lee Presson!
Back Talk!
Kitty Oaks!
Sgt. Die Wies!
Pearl E. Gates!
Eva D'Luscious!
Rizzo Rogue!
Gorilla X!
& The Hubba Hubba Murder-Nurses!
hosted by Dr. Siren, Dr. Von Kickinface & Evil Old Dr. Kingfish
PLUS! Dig that crazy rhythm w/guest DJ Tweaka Turner!
Friday, Oct. 9th (following "Mortified") at…
DNA Lounge
375 Eleventh Street, SF
21 & Up w/valid ID
HUBBA HUBBA REVUE BOX OFFICE OPENS AT 9:30PM
ADVANCE TICKETS *HIGHLY* RECOMMENDED
$15 General Admission
$25 Reserved Seating, Balcony
$30 Reserved Seating, Main Floor/Cocktail Tables
———————–
See more at:
———————-
TICKETS & SEATING INFORMATION:
GENERAL ADMISSION tickets do not include guaranteed seating.
RESERVED SEATING is sold by the chair. Seating is at cocktail tables on the main floor, and against the railing on the balcony. Reserved seating ticket-holders will be given wristbands and seated at the event by Hubba Hubba Revue staff. Individuals and groups may be seated together and share tables. Large parties are encouraged to buy tickets as a single purchase.
———————
HUBBA HUBBA REVUE is brought to you by:
Circus Center SF
Dark Garden Corsetry!
Casey Castille's Trash & Rock & Roll Fitness!