San Francisco's BIGGEST & wildest burlesque show!
Friday, June 12th at the DNA Lounge, it's Hubba Hubba Revue's BURLESQUE NATION!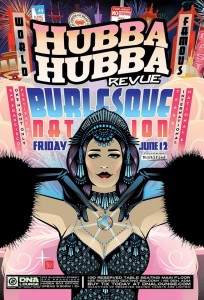 BURLESQUE! from Across the Country & Around the World! at San Francisco's *ONE NIGHT ONLY* festival of NATIONAL & INTERNATIONAL Tease! Don't miss this one-of-a-kind, star-studded spectacular! STARRING…
Sukki Singapora (Singapore City, SG)
Pinky DeVille (Sheffield, UK)
pole-acrobat YOKO TAKETANI (Tokyo, JP)
Erika Moon (Miami, FL)
Reina Terror (New York, NY)
Bunny Wigglebottom (Atlanta, GA)
Mia D. Vine (Chicago, IL)
Kitty Oaks (Chicago, IL)
The Deadlurk Dollymops (Portland, OR)
Wanda Bones (Portland, OR)
Hyacinth Lee (Portland, OR)
Rummy Rose (Portland, OR)
Di' Lovely (San Diego, CA)
Drea Dillinger (Los Angeles, CA)
Bunny Pistol
The Sizzling Sirens Burlesque Experience
Gorilla X… Gorilla to the Stars
& The Hubba Hubba Revue Go-Go Dancers
hosted by Kingfish, Jay Siren & Alexa Von Kickinface!
with gorgeous, glittery guest-DJs, Meikee Magnetic & Mixtress Shizaam of Glitterazzi SF!
* * *
Hubba Hubba Revue's BURLESQUE NATION!
Friday, June 12th (following "Mortified") at…
DNA Lounge
375 Eleventh Street, SF
21 & Up w/valid ID
HUBBA HUBBA REVUE BOX OFFICE OPENS AT 9:30PM
ADVANCE TICKETS *HIGHLY* RECOMMENDED
$15 General Admission
$25 Reserved Seating, Balcony
$30 Reserved Seating, Main Floor/Cocktail Tables
———————–
See more at:
———————-
TICKETS & SEATING INFORMATION:
GENERAL ADMISSION tickets do not include guaranteed seating.
RESERVED SEATING is sold by the chair. Seating is at cocktail tables on the main floor, and against the railing on the balcony. Reserved seating ticket-holders will be given wristbands and seated at the event by Hubba Hubba Revue staff. Individuals and groups may be seated together and share tables. Large parties are encouraged to buy tickets as a single purchase.
———————
HUBBA HUBBA REVUE is brought to you by:
Circus Center SF
Dark Garden Corsetry!
Casey Castille's Trash & Rock & Roll Fitness!