San Francisco's BIGGEST & wildest burlesque show!
Friday, September 11th at the DNA Lounge, it's Hubba Hubba Revue's 9TH ANNIVERSARY SPECTACULAR!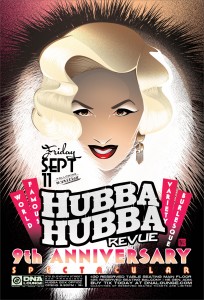 BURLESQUE SUPERSTARS, spectacular circus & variety acts, and the Tops in Tease from across the country & beyond, assemble in San Francisco to celebrate 9 SEXY, fun-filled years of the world-famous Hubba Hubba Revue!
starring
The Queen of the Quake, Kitten DeVille (Los Angeles, CA)
Iva Handfull (Seattle, WA)
Valentina Martin (San Diego, CA)
Twisted Orbit (San Diego, CA)
hula hoopers Vaudeville Vixens (San Diego, CA)
pole acrobat Yoko Taketani (Tokyo, JP)
Jessabelle Thunder (Los Angeles, CA)
Orchid Mei (Denver, CO)
Gaea Lady (Chicago, IL)
The Sizzling Sirens (Sacramento, CA)
Honey Lawless & Gigi d'Flower
Szandora LaVey
Lady Satan
Bunny Pistol
Fishnet Follies
burlesque legend, Viva La Fever
Ariyana La Fey
crooner Norman Vane
hosted by Kingfish, Jay Siren & Alexa Von Kickinface
syncopated sonic celebrations by DJ The Speakeasy Syndicate
Hubba Hubba Revue's "9TH ANNIVERSARY SPECTACULAR!"
Friday, Sept. 11th (following "Mortified") at…
DNA Lounge
375 Eleventh Street, SF
21 & Up w/valid ID
HUBBA HUBBA REVUE BOX OFFICE OPENS AT 9:30PM
ADVANCE TICKETS *HIGHLY* RECOMMENDED
$15 General Admission
$25 Reserved Seating, Balcony
$30 Reserved Seating, Main Floor/Cocktail Tables
———————–
See more at:
———————-
TICKETS & SEATING INFORMATION:
GENERAL ADMISSION tickets do not include guaranteed seating.
RESERVED SEATING is sold by the chair. Seating is at cocktail tables on the main floor, and against the railing on the balcony. Reserved seating ticket-holders will be given wristbands and seated at the event by Hubba Hubba Revue staff. Individuals and groups may be seated together and share tables. Large parties are encouraged to buy tickets as a single purchase.
———————
HUBBA HUBBA REVUE is brought to you by:
Circus Center SF
Dark Garden Corsetry!
Casey Castille's Trash & Rock & Roll Fitness!