San Francisco's BIGGEST & wildest burlesque show!
Friday, February 13th at the DNA Lounge, it's Hubba Hubba Revue's ST. VALENTINE'S DAY MASSACRE!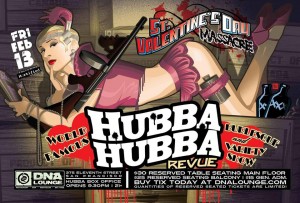 BURLESQUE BOOTLEGGERS, Frisky Flappers & Racy Romance in the Roaring 20's! Snap on your spats & strap on your gats for the wildest, sexiest VALENTINE'S party since Prohibition! COME SEE… !
Arabella Allure (Edmonton, AL)
Major Suttle-Tease (London, U.K.)
Drea Dillinger (Riverside, CA)
Donatella MeLies (Los Angeles, CA)
Fever Blister (Los Angeles, CA)
aerialist JonBenet Butterbuns
Sylphie Currin
Vienna La Rouge
Jet Noir
Kara Nova
Sugar Cane Jane
Mynx d'Meanor
Lola Martinet
Mojo DeVille & Prince Xzist
Miss Balla Fire
Mee Zee
Bunny Pistol
Gorilla X
Fishnet Follies Classic Burlesque Revue
& The Hubba Hubba Revue Go-Go Gun-Molls!
hosted by Kingfish & Kevin Hancock
AND… Shakin' the shack with tantalizing rhythms,
The Speakeasy Syndicate!
* * *
Hubba Hubba Revue's
ST. VALENTINE'S DAY MASSACRE!
Friday, Feb. 13th (following "Mortified") at…
DNA Lounge
375 Eleventh Street, SF
21 & Up w/valid ID
HUBBA HUBBA REVUE BOX OFFICE OPENS AT 9:30PM
ADVANCE TICKETS *HIGHLY* RECOMMENDED
$15 General Admission
$25 Reserved Seating, Balcony
$30 Reserved Seating, Main Floor/Cocktail Tables
———————–
See more at:
———————-
TICKETS & SEATING INFORMATION:
GENERAL ADMISSION tickets do not include guaranteed seating.
RESERVED SEATING is sold by the chair. Seating is at cocktail tables on the main floor, and against the railing on the balcony. Reserved seating ticket-holders will be given wristbands and seated at the event by Hubba Hubba Revue staff. Individuals and groups may be seated together and share tables. Large parties are encouraged to buy tickets as a single purchase.
———————
HUBBA HUBBA REVUE is brought to you by:
Circus Center SF
Dark Garden Corsetry!
Casey Castille's Trash & Rock & Roll Fitness!