San Francisco's BIGGEST & wildest burlesque show!
Friday, March 13th at the DNA Lounge, it's Hubba Hubba Revue's SPACESTATION: 1966!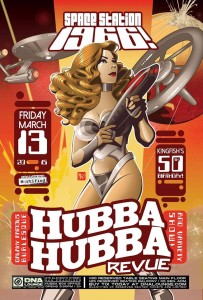 BLAST OFF! & Go Boldly into the RETRO-FUTURE! as Hubba Hubba Revue celebrates the *50TH BIRTHDAY* of Captain James T. Kingfish with a Groovy Galaxy of Burlesque STARS! — Come SEE… !
The Sizzling Sirens Burlesque Experience
Honey Lawless & Gigi d'Flower
aerialist Kobayashi Maru
aerialist Ariyana La Fey
Rubenesque Burlesque
Bunny Pistol
Kara La Fleur
Stilletta Maraschino
Laika Fox, Interstellar Ecdysiast
Ophelia Coeur de Noir
Lola Martinet
Honey Penny
The Speakeasily Gang
Szandora LaVey
Mynx d'Meanor
Frankie Ficticous
Pickles Kintaro
JonBenet Butterbuns
Fishnet Follies Classic Burlesque Revue
Gorilla X… Gorilla to the Stars
& The Hubba Hubba Go-Go Cadets!
hosted by Captain James T. Kingfish, Kevin HanSpock, Yeoman Von Kickinface & J'Alien Siren
with special guest DJ's
Mixtress Shizaam & Meikee Magnetic of Glitterazzi SF
* * *
Hubba Hubba Revue's SPACESTATION: 1966!
Friday, March 13th (following "Mortified") at…
DNA Lounge
375 Eleventh Street, SF
21 & Up w/valid ID
HUBBA HUBBA REVUE BOX OFFICE OPENS AT 9:30PM
ADVANCE TICKETS *HIGHLY* RECOMMENDED
$15 General Admission
$25 Reserved Seating, Balcony
$30 Reserved Seating, Main Floor/Cocktail Tables
———————–
See more at:
———————-
TICKETS & SEATING INFORMATION:
GENERAL ADMISSION tickets do not include guaranteed seating.
RESERVED SEATING is sold by the chair. Seating is at cocktail tables on the main floor, and against the railing on the balcony. Reserved seating ticket-holders will be given wristbands and seated at the event by Hubba Hubba Revue staff. Individuals and groups may be seated together and share tables. Large parties are encouraged to buy tickets as a single purchase.
———————
HUBBA HUBBA REVUE is brought to you by:
Circus Center SF
Dark Garden Corsetry!
Casey Castille's Trash & Rock & Roll Fitness!