San Francisco's BIGGEST & wildest burlesque show!
Friday, December 12th at the DNA Lounge, it's Hubba Hubba Revue's TOYS!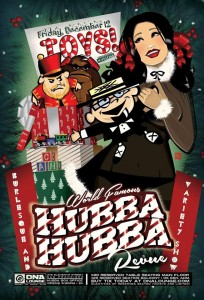 TICKETS
San Francisco's world-famous ♥ BURLESQUE ♥ & variety show is gonna stuff your stocking w/a sexy night of adorable dolls, holiday tease & the finest action-FIGURES in Santa's hefty sack!! — COME SEE… !
Major Suttle-Tease (London, U.K.)!
Di' Lovely'! (San Diego, CA)!
aerialist JonBenet Butterbuns!
Pickles Kintaro, Marla Spankx & Pearl E. Gates!
Bramani Quinn!
Rubenesque Burlesque!
Honey Lawless & Gigi d'Flower!
Sugar Cane Jane!
Patty Cakes!
Ariyana La Fey & Ona Monsoon!
Jet Noir!
The Sizzling Sirens Burlesque Experience!
Ginger Snatch!
Bunny Pistol!
Fishnet Follies Classic Burlesque Revue!
The Speed Queens!
Kara La Fleur!
Cyanide Cyn & Rizzo Rogue!
Gorilla X… Gorilla to the Stars !
& The Hubba Hubba Revue Go-Go Dolls!
hosted by Kringlefish, Kevin Elfcock & Jingle Siren!
Shakin' the North Pole with Tantalizing Carols,
The Speakeasy Syndicate
————————
Hubba Hubba Revue 's TOYS!
Friday, Dec. 12th (following "Mortified") at…
DNA Lounge
375 Eleventh Street, SF
21 & Up w/valid ID
ADVANCE TICKETS *HIGHLY* RECOMMENDED
$15 General Admission
$25 Reserved Seating, Balcony
$30 Reserved Seating, Main Floor/Cocktail Tables
———————–
See more at:
———————-
TICKETS & SEATING INFORMATION:
GENERAL ADMISSION tickets do not include guaranteed seating.
RESERVED SEATING is sold by the chair. Seating is at cocktail tables on the main floor, and against the railing on the balcony. Reserved seating ticket-holders will be given wristbands and seated at the event by Hubba Hubba Revue staff. Individuals and groups may be seated together and share tables. Large parties are encouraged to buy tickets as a single purchase.
———————
HUBBA HUBBA REVUE is brought to you by:
Circus Center SF
KOFY TV20!
Dark Garden Corsetry!
Casey Castille's Trash & Rock & Roll Fitness!