San Francisco's BIGGEST & wildest burlesque show!
Friday, December 11th at the DNA Lounge, it's Hubba Hubba Revue's A HUBBA CHRISTMAS CAROL!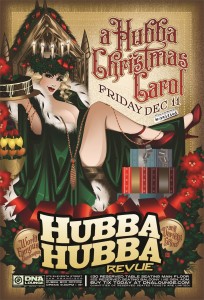 Hold on to your Dickens! The ghosts of Burlesque Christmas Past, Present & Future are coming to haunt Hubba Hubba Revue, and teach mean, old Ebeneezer Kingfish the error of his ways! It's gonna be more fun than a face full of figgy pudding! "God bless Us, Every One!"
with performances by
Maxi Millions (Los Angeles, CA)
Rex The Impossible (Los Angeles, CA)
Miz Chaos (Portland, OR)
Champagne Shuga Nova (Denver, CO)
Honey Lawless & Gigi D'Flower
aerialist Ariyana La Fey
Ada Lavendar
Cola Claret
Dame Dynamite & Cava Electra
sASSy Hotbuns
Fishnet Follies
Szandora LaVey
Bunny Pistol
Frankie Fictitious
Elyse Elaine
Jet Noir
Lola Martinet
Backtalk
Gorilla X
The Aether Brigade
& the Hubba Hubba go-go urchins
hosted by Ebeneezer Kingfish & Alexa Von Christmasface
with Yuletide Jams by DJ Myster C (Ya Mamma's Basement)
A HUBBA CHRISTMAS CAROL!
Friday, Dec. 11th (following "Mortified") at…
DNA Lounge
375 Eleventh Street, SF
21 & Up w/valid ID
HUBBA HUBBA REVUE BOX OFFICE OPENS AT 9:30PM
ADVANCE TICKETS *HIGHLY* RECOMMENDED
$15 General Admission
$25 Reserved Seating, Balcony
$30 Reserved Seating, Main Floor/Cocktail Tables
———————-
TICKETS & SEATING INFORMATION:
GENERAL ADMISSION tickets do not include guaranteed seating.
RESERVED SEATING is sold by the chair. Seating is at cocktail tables on the main floor, and against the railing on the balcony. Reserved seating ticket-holders will be given wristbands and seated at the event by Hubba Hubba Revue staff. Individuals and groups may be seated together and share tables. Large parties are encouraged to buy tickets as a single purchase.
FRONT ROW V.I.P., 5-person group-tables, with bottle-service, are also available via the DNA Lounge ticket-link.
* * *
PARKING Ample public parking is available at the Costco parking lot across the street from DNA Lounge, at the corner of 11th and Harrison. The parking lot entrance is on 11th Street.
———————
BECOME A PATRON of Hubba Hubba Revue! Receive a special perk for your love & assistance! Find out more here.
———————
HUBBA HUBBA REVUE is brought to you by:
Circus Center SF
Dark Garden Corsetry!
Casey Castille's Trash & Rock & Roll Fitness!