San Francisco's BIGGEST & wildest burlesque show!
Friday, October 10th at the DNA Lounge, it's Hubba Hubba Revue's PIRATES!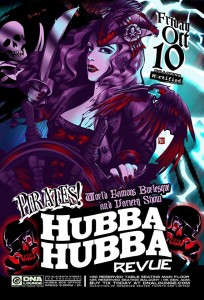 TICKETS
Y'ARR, SHIPMATES! 'Tis a HAUNTED tale of treasure CHESTS & buccaneer BOOTY! Who be brave enough to sail with Cap'n Kingfish, under The Jolly Roger, on a cursed course for BURLESQUE Bay? COME SEE… !
Iris Le'Mour (Dallas, TX)
Adèle Wolf (Oklahoma City, OK)
aerialists Kobayashi Maru
aerialist House of Cinders
The Sizzling Sirens Burlesque Experience
Sin Sisters Burlesque TM
Fishnet Follies Classic Burlesque Revue
Laundra Tyme & The Speed Queens
Featherpistol
Truvy Trollop
The Gems
Szandora LaVey
Patty Cakes
Pickles Kintaro
Bubb Les Entendre
Gorilla X… Gorilla to the Stars
Jd Limelight
& Cap'n Kingfish's Jolly Pirate Go-Go Dancers!
hosted by Cap'n Kingfish & Orangebeard!
& Shakin' the ship with tantalizing shanties,
The Speakeasy Syndicate!
————————
Hubba Hubba Revue 's PIRATES!
Friday, Oct. 10th (following "Mortified") at…
DNA Lounge
375 Eleventh Street, SF
21 & Up w/valid ID
ADVANCE TICKETS *HIGHLY* RECOMMENDED
$15 General Admission
$25 Reserved Seating, Balcony
$30 Reserved Seating, Main Floor/Cocktail Tables
———————–
See more at:
———————-
TICKETS & SEATING INFORMATION:
GENERAL ADMISSION tickets do not include guaranteed seating.
RESERVED SEATING is sold by the chair. Seating is at cocktail tables on the main floor, and against the railing on the balcony. Reserved seating ticket-holders will be given wristbands and seated at the event by Hubba Hubba Revue staff. Individuals and groups may be seated together and share tables. Large parties are encouraged to buy tickets as a single purchase.
———————
HUBBA HUBBA REVUE is brought to you by:
KOFY TV20!
Dark Garden Corsetry!
Casey Castille's Trash & Rock & Roll Fitness!