San Francisco's BIGGEST & wildest burlesque show!
Friday, July 10th at the DNA Lounge, it's Hubba Hubba Revue's STATE FAIR!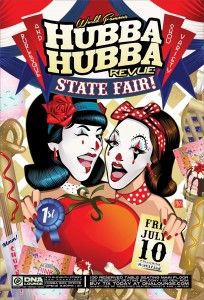 STEP RIGHT UP, FOLKS! The *world-famous* Hubba Hubba Revue invites you to a star-spangled spectacle of summertime TEASE ! With sideshow thrills! A brassload of marching band clowns, & enough blue-ribbon BURLESQUE to pop your prize petunias! STARRING… !
Miss Tiki Oasis 2014, Ruby Joule (Austin, TX)
Reggie Bügmüncher (Philadelphia, PA)
Kat De Lac (Pittsburgh, PA)
Kristen Minsky (New York, NY)
Rex The Impossible (Los Angeles, CA)
The TrashKan Marchink Band
aerialist Ariyana La Fey
Ophelia Coeur de Noir & Charlie Duneaux
Papillon De Nuit
Fou Fou Ha
Jet Noir
Maggie Motorboat
Pearl E. Gates
Lady Satan
Alexa Von Kickinface
Bunny Pistol
Szandora LaVey
Fishnet Follies Classic Burlesque Revue
Gorilla X… Gorilla to the Stars
& the Hubba Hubba Revue Go-Go Dancers!
hosted by Sideshow Kingfish & Alexa Von Kickinface!
& spinning Big Top Beats, DJ The Klown – Boenobo!
***
Hubba Hubba Revue's "STATE FAIR!"
Friday, July 10th (following "Mortified") at…
DNA Lounge
375 Eleventh Street, SF
21 & Up w/valid ID
HUBBA HUBBA REVUE BOX OFFICE OPENS AT 9:30PM
ADVANCE TICKETS *HIGHLY* RECOMMENDED
$15 General Admission
$25 Reserved Seating, Balcony
$30 Reserved Seating, Main Floor/Cocktail Tables
———————–
See more at:
———————-
TICKETS & SEATING INFORMATION:
GENERAL ADMISSION tickets do not include guaranteed seating.
RESERVED SEATING is sold by the chair. Seating is at cocktail tables on the main floor, and against the railing on the balcony. Reserved seating ticket-holders will be given wristbands and seated at the event by Hubba Hubba Revue staff. Individuals and groups may be seated together and share tables. Large parties are encouraged to buy tickets as a single purchase.
———————
HUBBA HUBBA REVUE is brought to you by:
Circus Center SF
Dark Garden Corsetry!
Casey Castille's Trash & Rock & Roll Fitness!