San Francisco's BIGGEST & wildest burlesque show!
Friday, March 14 — KINGFISH'S BURLESQUE BIRTHDAY BASH at the DNA Lounge!!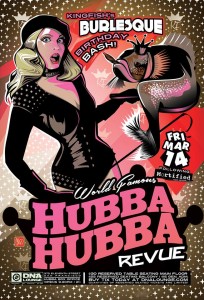 Hubba Hubba Revue presents, Kingfish's ♥ BURLESQUE ♥ Birthday Bash! — The best in burlesque raise a toast & roast the host of the biggest show on the whole West Coast! — It's a Friday night (King)fish fry, & everyone's invited!
Starring… !
The Dolls of Doom (Chicago, IL)
Lando Blaze and Narcissa (Chicago, IL)
Lola Martinet
Teddy Bare
Tila Von Twirl
Sid Scenic
Bunny Pistol
Lady Satan
Jet Noir
Vienna La Rouge
Szandora LaVey
Mynx DMeanor
Pickles Kintaro
Miss Balla Fire
Grace Bones
Oleeander Moon & Vegas
Honey Lawless & Kliff Jerk
Fishnet Follies Classic Burlesque Revue
Gorilla X… Gorilla to the Stars
& The Hubba Hubba Birthday Go-Go's!
with hosting & roasting by
Kevin Hancock
Jay Siren
Lee Presson
& Odessa Lil
Plus! spinning the birthday best,
special guest DJ Brycie BONES!
————————
Hubba Hubba Revue presents,
Kingfish's Burlesque Birthday Bash
FRIDAY, March 14th, following "Mortified") at…
DNA Lounge
375 Eleventh Street, SF
21 & Up w/valid ID
HUBBA HUBBA REVUE BOX OFFICE OPENS AT 9:30PM
ADVANCE TICKETS *HIGHLY* RECOMMENDED
$15 General Admission
$25 Reserved Seating, Balcony
$30 Reserved Seating, Main Floor/Cocktail Tables
———————–
See more at:
———————-
TICKETS & SEATING INFORMATION:
GENERAL ADMISSION tickets do not include guaranteed seating.
RESERVED SEATING is sold by the chair. Seating is at cocktail tables on the main floor, and against the railing on the balcony. Reserved seating ticket-holders will be given wristbands and seated at the event by Hubba Hubba Revue staff. Individuals and groups may be seated together and share tables. Large parties are encouraged to buy tickets as a single purchase.
———————
HUBBA HUBBA REVUE is brought to you by:
KOFY TV20!
Dark Garden Corsetry!
Casey Castille's Trash & Rock & Roll Fitness!
The Looking Glass Costumes!
Tasty Vapor!